FAQ's
What is included in the workshop fee?
Tuition from workshop leaders, workshop materials and workbook, lunches and refreshments (see below) and admin support during the event. Transport to and from the workshop venue is included for participants who have booked our workshop hotel deal.
Getting to Dubai
Dubai International Airport is a busy airport served by Emirates and most other interna3onal airlines.
How do I get from the airport to my hotel?
By far the easiest way is to take one of the many and reasonably priced taxis which are right outside the airport terminal. These are safe at any time of the day and single lady travellers are offered a female driver (pink taxi). If you want to pre-book at any time (not required on arrival) then try The Dubai Taxi Corporation on +971 4 208 0808 (04 208 0808 if dialing locally) or use the Careem App on your smartphone.
How do I get from my hotel to the workshop venue?
If you have booked into the hotel on our specially negotiated IBICUS rate, using the booking form in the IBICUS information pack then free bus transportation will be provided between the hotel and the workshop venue on workshop days.
When do the workshops start?
Please come through the main school entrance of Raffles World Academy to the Registration Desks between 0830 and 0850 on Thursday 19 September 2019. There is no need to register at the front desks on subsequent days. The workshops will start at 9.00am prompt each day.
What should I wear?
Casual dress, but respectul of the local culture.
What will the weather be like then in Dubai?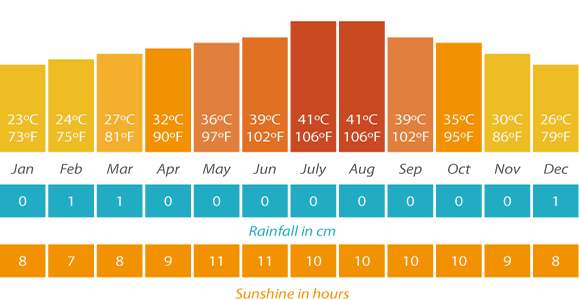 What to bring
Any materials requested in advance by your workshop leader, including your subject guide (there will be no spare copies on site). Bring either electronic or paper versions as you prefer.
Do I need an electrical adaptor?
The electricity current is 220/240volts and requires 3-pin plugs (UK plugs work withouth an adaptor).
Can I access the internet at the school?
WiFi is available in most areas of the school for your own smart phone/laptop. School ICT facilities are also available during break times.
What meals are provided?
Lunches and refreshments (including vegetarian options) are provided on Thursday and Friday during the workshop. On Saturday we finish before lunch but will provide refreshments at the morning break. If you have any special dietary requirements, please let us know at the time of booking or if you have already booked, please email admin@ibicus.org.uk before the workshop dates.
For suggestions for your evening meals, you might like to look at www.timeoutdubai.com and www.dubaieating.com
Is alcohol available in Dubai?
Dubai's licensing laws require venues serving alcohol be attached to hotels or a private clubs. It is illegal to drink in the street or in a public space.
What is the currency in Dubai?
The currency in the UAE is the Arab Emirates Dirham (AED).
What is the time difference?
The UAE is 4 hours ahead of GMT.
Do I get a Certificate after the event?
Yes, this will be sent to you as a PDF document acer the event.
How do I evaluate the workshop?
You will be emailed a link to complete an online evaluation form.
What if I need to cancel my place?
Our cancellation terms vary depending on how far in advance you wish to cancel your place. Please see our terms and conditions for further information.
What if I need a doctor?
We shall brief you on arrival about what to do in the event of a fire or emergency in the school. If you feel ill during the workshop, please come to the reception desk and we will endeavour to assist. Obviously you should ask immediately at your hotel for assistance if you fall ill whilst resident there. You should ensure, before you travel to the workshop, that you have appropriate accident, travel and medical insurance.
Local emergency numbers

Airport Enquiries

04 206 6666

Ambulance and Police

999

Dentists

Dr Michael's Dental Clinic

04 3495900 or 925 5996

Drs Nicholas and Asp

04 345 4443 or 919 41341

Doctors

Al Zahra Clinic

04 378 6666

Dubai London Clinic

04 344 6663

Infinity Healthcare

04 394 8994

Mediclinic

04 449 5111

Emergency Services (Dubai)

04 223 2323

Fire

997

Private Hospitals

Al Zahra Hospital

04 378 6666

American Hospital

04 336 7777

Wellcare Hospital

04 282 7788

Dubai Hospital (General)

04 271 4444

Rashid Hospital (A&E, Trauma)

04 337 1111
IBICUS TEAM