The IB Basics from Ibicus
If you are attending a Category 2 workshop for experienced IB teachers, and you are in fact 'new' to the IB or less knowledgeable of the background to the IB programmes than is ideal, it may be helpful for you to read the information below prior to your participation.
A not for profit educational foundation
Founded in 1968
Headquarters in Geneva
4 programmes – PYP, MYP, DP, IBCC
in over 3500 schools
in 144 countries
for over 1 million students

It works in four areas:

Development of curriculum
Assessment of students
Training and professional development of teachers
Authorization and evaluation of schools

The IB covers the continuum of school-based education in four programmes:

Primary Years Programme (PYP) for students aged 3 to 12
Middle Years Programme (MYP) for students aged 11 to 16
Diploma Programme (DP) for students aged 16 to 19
IB career-related certificate (IBCC) for students wanting a vocational course aged 16-19
The programmes share a common philosophy and may be offered separately or as a continuum by schools which apply to become IB World Schools in order to offer an IB programme.
The IB now has global centres in Bethesda, Maryland, USA, Singapore and The Hague, The Netherlands, as well the IB assessment centre in Cardiff, Wales, UK. The IB now employees about 600 staff and 6000 examiners and consultants.
IB pedagogy is based on student-centred learning and developing critical thinkers who learn how to learn not just what to learn.
IB mission

'The International Baccalaureate aims to develop inquiring, knowledgeable and caring young people who help to create a better and more peaceful world through intercultural understanding and respect.

To this end the organization works with schools, governments and international organizations to develop challenging programmes of international education and rigorous assessment.

These programmes encourage students across the world to become active, compassionate and lifelong learners who understand that other people, with their differences, can also be right.'
Following on from the last five-year plan which had the goals of maintaining quality, increasing infrastructure and accessibility, the latest plan, launched in 2011 has four goals:
to strengthen the leadership of the IB in international education

to evolve and improve IB services and support to schools by building capability

to develop and more diverse and inclusive IB community by enabling access to an IB education

to build a sustainable, responsible and efficient organisation for the future
IB website that supports schools by capturing various initiatives on issues of global significance. Website has activities, resources and ideas on global issues.
In 2010, some 57% of IB schools were state-funded (public) schools and the majority of IB schools in the USA, Canada, the UK and Scandinavian countries are state-funded. But most IB schools in other countries and particularly in the developing world are independent schools charging fees which puts them out of reach for most of the population.
The IB wants to benefit more students worldwide but becoming an IB school is expensive and on-going costs are high so there is a tension between maintaining quality and increasing access. The IB board in its 2006 report 'From growth to access' attempted to define strategies for expanding access. There are various initiatives including work with UNESCO, partnerships with organisations such as the AKDN, the formation of the education innovation services division of the IB, the IB grants for schools experiencing temporary financial challenges or that are increasing access to IB programmes. There is also the US$2.4 million grant from the Bill & Melinda Gates Foundation to help low-income and minority students in the USA prepare to participate in the IBDP.
The IB learner profile is the mission statement translated into learning outcomes.
It articulates the characteristics and their descriptors that an internationally-minded person who has been educated via one or more of the IB programmes should aspire to hold. It is the learner profile which turns the mission statement of the IB into more of a practical tool for the educator.
Having these stated qualities as an objective is one of the key differentiators of the DP for university educators and employers, because it nurtures a set of skills.

The IB Learner profile is summarised in this list of characteristics:
At schools where the IB is taught these qualities are included in the development and assessment of student work.
The notion of open mindedness for example might include the role of open mindedness in innovation of new scientific discoveries, open mindedness of leaders in historical conflicts, or open mindedness as an agent for change – for instance in dealing with climate change – or in dealing with your own life and social relationships. Each aspect of the learner profile will be embedded and explored within the curriculum to help the student understand and develop that quality in themselves.
The IB mission statement reminds us that we are all global citizens.
'The International Baccalaureate aims to develop inquiring, knowledgeable and caring young people who help to create a better and more peaceful world through intercultural understanding and respect.'
The UNESCO 2001 International Conference on Education listed seven requirements for learning to live together.
acquiring the capacity to deal with rapid change in all walks of life

becoming active citizens, participating in political life in its widest sense

defending and promoting human rights

reconciling the local community with the wider world

learning languages

knowing how to assess the impact on daily life of scientific developments

being able to use new technologies of communication.
An internationally minded person recognises that we all have several identities – local, national, socio-economic, cultural and religious, gender, linguistic and an IB World School should encourage all to recognize these and respect them in each other and ourselves.
The IB defines international education here.
The IB continuum is the uninterrupted series of programmes of PYP, MYP, DP and IBCC in which the extremes may be very different, catering for students aged 3 or 19 but the continuation of learning is seamless between the programmes.
Cross programme resources (available on the OCC in maths, science, SEN and language) support teachers in developing the continuum.
The alignment of programmes and the continuum are needed:
To provide coherency in the IB's international education

To support schools and districts which offer multiple IB programmes

To support the IB strategic element of strengthening international education leadership
The IB Diploma Programme (IBDP)
The IB Diploma was created in 1968 to provide an academically challenging programme of international education for students preparing for university.
The DP aims to:
provide an internationally accepted qualification for entry into higher education

promote international understanding

educate the whole person, emphasizing intellectual, personal, emotional and social growth

develop inquiry and thinking skills, and the capacity to reflect upon and to evaluate actions critically.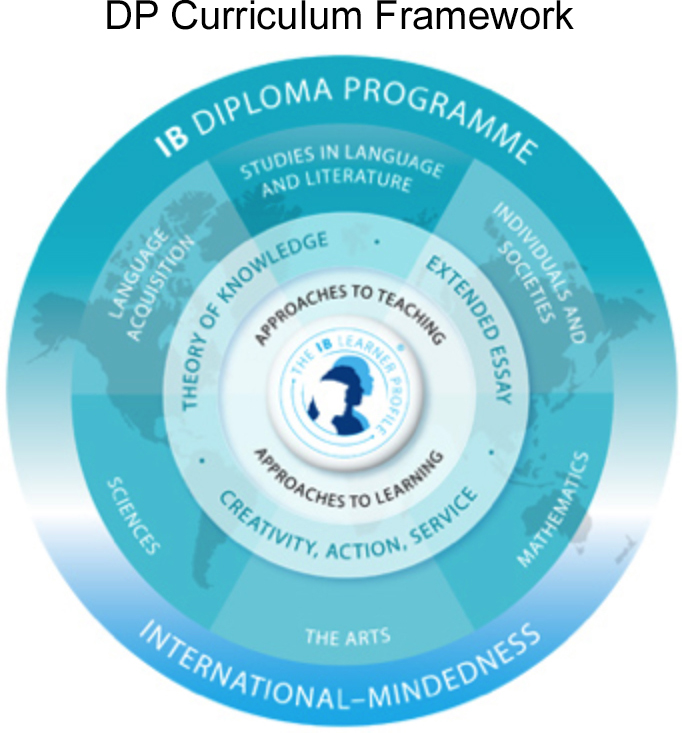 The DP is a broad and balanced academically rigorous programme for 16-19 year olds. It is usually taken over two academic years and is a qualification for entry to college and university worldwide. There is flexibility of choice within its mandatory framework and it is open to students in a wide academic range. Schools may offer the DP in English, French, Spanish or Mandarin.
Students must take six subjects for the IB Diploma, of which three must be at 'higher' level or HL (where they are studied in greater depth) and the others at 'standard level' or SL. Usually, the six subjects are selected one from each of the six DP hexagon groups.
The subjects offer breadth and depth, allow for flexibility of choice and specialisation but within a mandatory framework, recognising that to be fully educated involves knowing methodology and facts in more than one area of knowledge.
Course aims in the subjects are aspirational, asking for critical awareness in subject areas and appreciation of others' viewpoints as well as justification of one's own as well as subject knowledge and application of that knowledge.